Co authors
Coauthors /coeditors of Lars-Erik Persson
To be coauthors means that the corresponding persons has written at least one scientific paper or book together in some international Journal respective international publishing company. Each paper or book is evaluated by some experts (referees) in the field before they are accepted for publication.
To be coeditors means that the corresponding persons have carefully selected, via international referees, the best papers from some international conference, written a joint introduction which put these publications into a more general frame and finally put these things (the introduction and the selected papers+ formal things related to the publishing company) together in a book, which is accepted for publication in an international publishing company, again via acceptance of international referees for the book.
As can be seen from the list below I have been coauthor/coeditor with around 170 persons from 42 different countries. I think this almost a record not only in the mathematical sciences and I am surprised myself when I begin to summarize my life.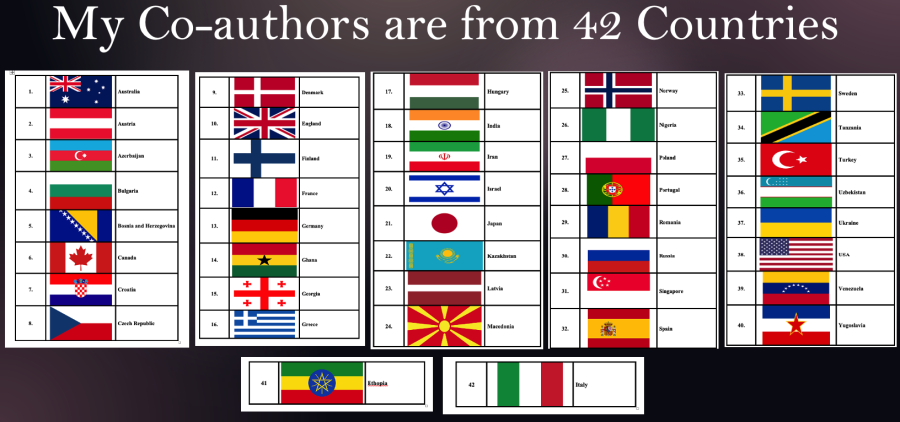 Australia: Sever S. Dragomir
Austria: Hans G. Feichtinger, Norbert Kaiblinger
Azerbaijan: Rza Mustafayev, Farman Mamedov, Nazira Mammadzade
Bulgaria: Lubomir Dechevsky, Ludmila I. Nikolova
Bosnia and Herzegovina: M. Memic
Canada: Hans P. Heinig, George Isac, Anna Sierpinska, Gord Sinnamon
Croatia: Alexandra Cizmesija, Kristina Krulic, Vera Culjak, Josip E. Pecaric, Ivan Peric , Sanya Varosanec
Czech Republic: Miroslav Englis, Alois Kufner
Denmark: Frank Hansen
England: David E. Edmunds
Etiopia: Markos Yimer
Finland: Mats Gyllenberg, Timo Koski
France: Jacques-Louis Lions, Yves Rakotondratsimba
Germany: Norbert Euler
Ghana: Francis Allotey, Emmanuel Essel, Christopher A. Okpoti
Georgia: Lasha Baramidze, Amiran Gogatishvili, Vakhtang Kokilashvili, Alexander Meshki, George Tephnadze, Georgi Tutberidze
Greece: Theodossios Zachariades
Hungary: Istvan Blahota , Karol Nagy, Zsolt Pales, Ferenc Schipp, Ferenc Weisz
India: Babita Gupta, Pankaj Jain, Pawan K. Jain, Arun Pal Singh, Preeti Upreti, S. Kanjilal, Harpal Singh
Iran: Mohammad Sal Moslehian
Israel: Shoshana Abramovich , Michael Cwikel
Italy: Maria Alessandra Ragusa
Japan: Mikio Kato, Saburou Saitoh, Yasuji Takahashi
Kazakhstan: Zamira Abdikalikova, Akbota Abylayeva, Raya Akhmetkaliyeva, A.O. Bairystanov, Aigerim Kalybay, Aigerim Kopezhanova, Erland Nursultanov, Ryskul Oinarov, Kordan Ospanov, Lyazzat Sarybekova, Serikbol Shaimardan, Ainur Temirkhanova, Nazerke Tleukhanova, Gabdolla Akishev
Latvia: Normunds Jecabsons, Janis Varna
Macedonia: Zivorad Tomovski
Norway: Dag Lukkassen, Annette Meidell, Andrey Piatnitski, Andreas Seger, Leon Simula, John Wyller
Nigeria: Abdulaziz Adeagbo-Sheikh, E.O. Adeleke, James Oguntuase, Fabelurin Olanrewaju, B. Poopola
Poland: Henryk Hudzik, Lech Maligranda, Mieczyslaw Mastylo
Portugal: Natasha Samko, Stefan Samko
Romania: Anca Marcoci, Liviu Marcoci, Constantin Niculescu, Emil Popa , Nicolae Popa
Russia: Irina Asekritova, Victor Burenkov, Evgeniya Burtseva, Gregory Chechkin, Yulia Koroleva, Natan Krugljak, Eugene Myasnikov, Maria Nassyrova, Olga Popova, Gulraya Shambilova, Vladimir Stepanov, Elena Ushakova
Singapore: Rawi Agarwal
Spain: Maria J. Carro, Fernando Cobos, Javier Soria
Sweden: Andreas Almqvist, Lennart Andersson, Sorina Barza, Jöran Bergh, Camilla Björklund, Niklas Bylund, Johan Byström, Per Ola Börjesson, Johan Dasht, Andrejs Dunkels, Håkan Ekblom, Jonas Engström, Stefan Ericsson, Karl-Evert Fällström, Sergui Glavatskih, Anders Grennberg, Barbro Grevholm, Niklas Grip, Bertil Gustafsson, Torbjörn Hedberg, Anders Holmbom, Johan Häggström, Michael Isaksson, Hans Johansson, Maria Johansson, Elin Johansson, Sten Kaijser, Anna Klisinska, Katarina Kjellström, Leo Larsson, Roland Larsson, Ove Lindblom, Staffan Lundberg, Josefin Lundqvist, Stefan Löfwall, Pär Marklund, Eva Norén, Reinhold Näslund, Gunilla Olofsson, Anneli Pavval, Jaak Peetre, Elisabeth Persson, Leif Persson, Per-Eskil Persson, Eva Riesbeck, Fredrik Sahlin, Ronny Sjöberg, Sigrid Sjöstrand, Gunnar Sparr, Thomas Strömberg, Jan-Olov Strömberg, Nils Svanstedt, Björn von Sydow, Inge Söderqvist, Eva Taflin, Peter Wall, Anna Wedestig, Ingemar Wik, Anders Öberg, Per Ödling
Tanzania: Verdiana Grace Masanja, Narsis Mtega
Turkey: Agacik Zafer
Uzbekistan: Komil Kuliev, Gulchehra Kulieva
Ukraine: Marianna Euler
USA: Anna Kaminska, Richard Rochberg
Venezuela: Carlos E. Finol
Yugoslavia: D.S. Mitrinovic